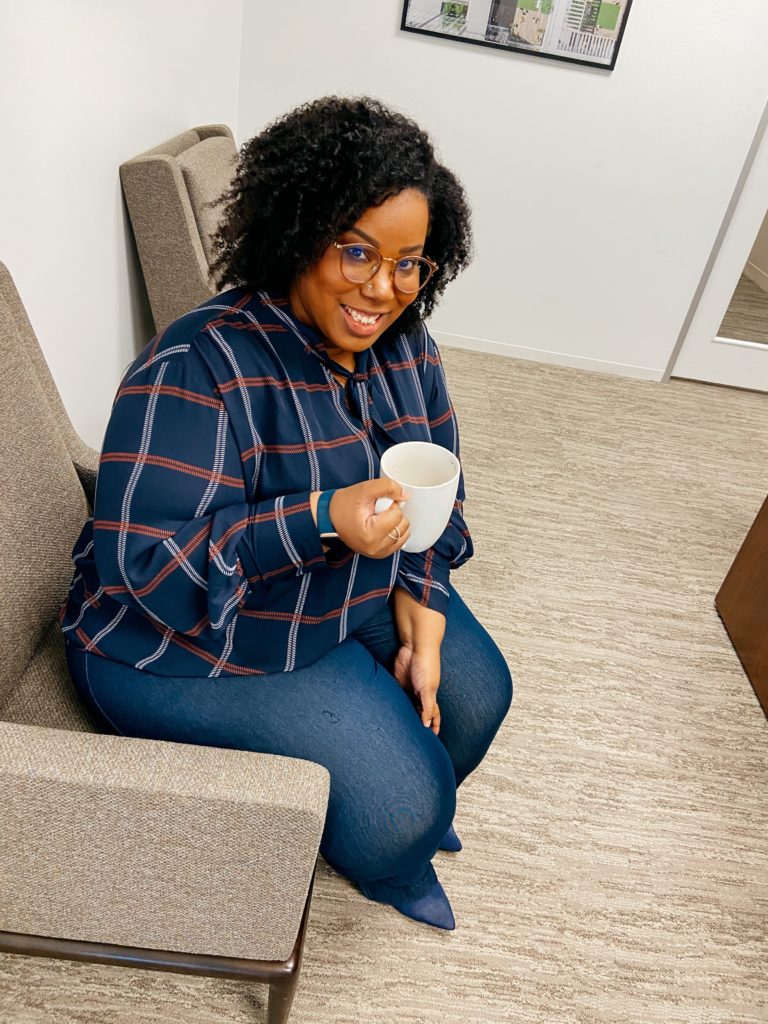 We've all seen the posts listing all of the things you can do while you're safe in the house and social distancing.
Learn a new language.
Start your passion project.
Start a podcast.
Organize your closet.
The list goes on. In fact, one of my girls sent me a link today of an article that lists 100 things you can do while inside and social distancing. 100 THINGS! That's kind of hard for me to wrap my head around since I've been feeling more and more mentally and physically exhausted since this social distancing started. I went and saw some loved ones this past weekend and forgot how good it felt to receive a hug, like a warm full-body hug until I received two! I've told y'all this before, but I live by myself and I'm a self-proclaimed extroverted introvert, but I forgot how much I missed that social interaction until I couldn't do it anymore.
I've been working from home on and off for about a week and a half, and on Wednesday it'll be a full week, and even though we have almost daily video conferences it's nothing like the in-person meetings. I never thought that I'd say that I missed unnecessary meetings, but I do. But I digress.
I came across a Twitter thread on Saturday that perfectly described how I've been feeling recently and haven't had the time to discuss it with my therapist yet.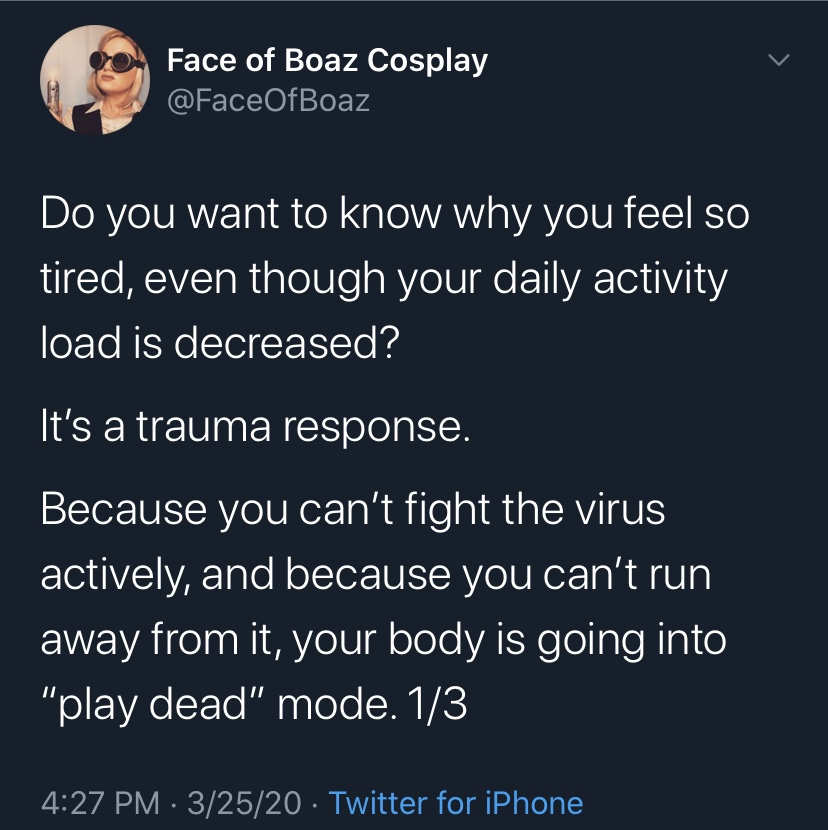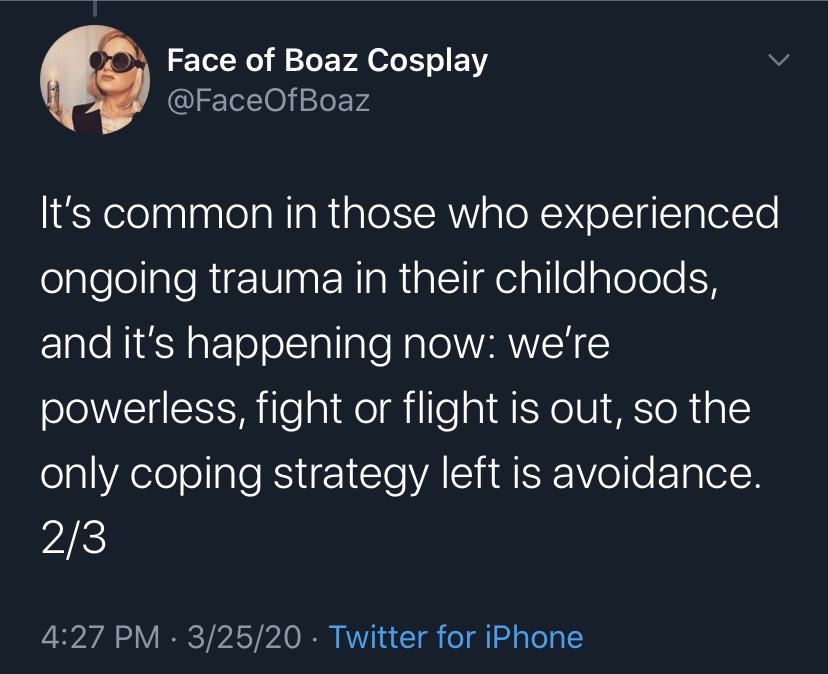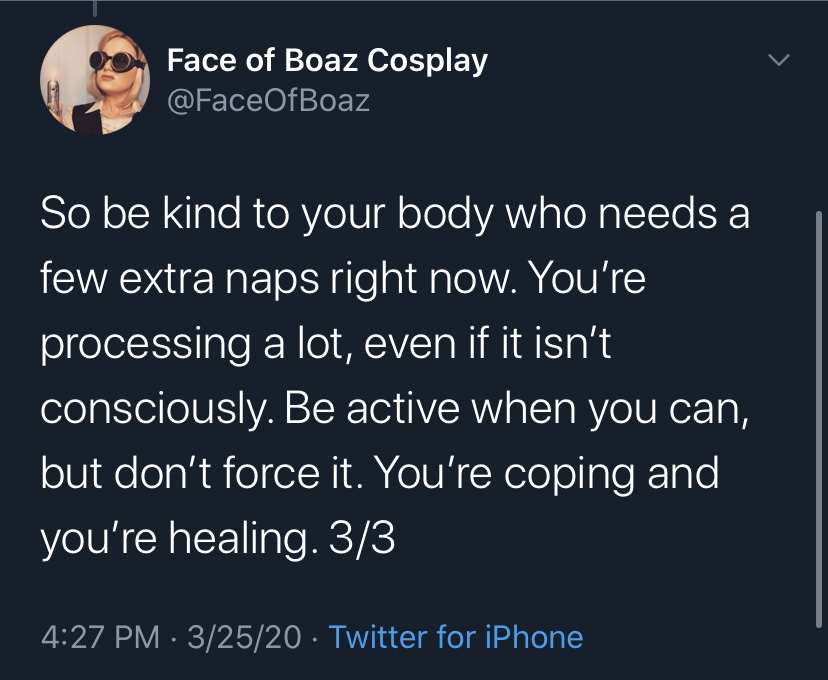 And then someone dropped this link in the conversation and I literally exclaimed: "THAT'S IT!" This is what I've been feeling. I see folks all day on social media redoing their pantries, organizing their closets, starting new hobbies and I haven't had the energy for that. I've been working constantly, even if it's from the comfort of my own couch in sweats and while my workload has technically gone down I feel more exhausted than ever. This drastic change has triggered something in not only me, but quite a few people and our bodies' responses is anxiety and grief.
I felt kind of weird experiencing that because it's not like I suddenly have to deal with having kids home 24/7. I love my nuggets, but I know that parenthood is not something I'm ready for now and all of those posts and memes I see about parents pulling their hair out because their kids are home and have cabin fever makes me want to delay parenthood even further. I'm still able to do my job, for the most part. I can go up to the campus if necessary, but I'm able to do quite a bit of work from home. I have food in the fridge, internet, streaming services, all of the things to make my stay at home comfortable. In theory, I shouldn't be feeling the pain that I'm feeling, but it's there. I'm not out ripping and running the streets so I shouldn't be as exhausted as I am, but I am. I know that I shouldn't be comparing my situation to other people's, but it's so hard not to when you see folks using this time to batch create HELLA content, hop on and dominate new social media platforms (Tik Tok has exploded during this time and I have 2 friends who are absolutely killing the game), do regular livestreams or even just do something simple like clean their baseboards or reorganize their closet.
I should at least have the motivation to do some of those things, but no. So here's what I'm going to do. I'm not going to beat myself up for the way my body is dealing with this sudden change in normalcy for everyone. I'm going to give myself grace for not having the sudden boost of energy to do all of the things. Now that I know what I'm dealing with I'm going to talk to my therapist and see if there are better ways for me to cope, and I encourage you to do the same. Give yourself time to adjust to your new normal, and don't compare yourself to what you're seeing other folks do.