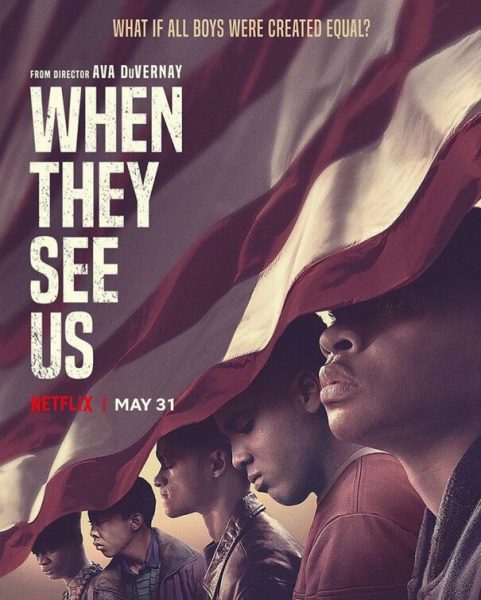 I can't lie and say that I wasn't excited about the release of this mini series.  Ava DuVernay can do no wrong in my eyes, and I knew that the rest of this all-star cast would do this story justice.  For those of you who don't know anything about this story, it's about 5 Black and Brown KIDS (and yes I meant to put that in all caps since they were between the ages of 14 and 16 years old) who were wrongfully convicted of attacking and raping a white woman.  They were rounded up, interrogated for almost 20 hours, abused and coerced into false confessions and sentenced for a crime they didn't commit.  Yes, what happened to the victim was unfortunate, but if we're being honest she wasn't the only victim.
We've seen this time and time again that Black and Brown kids aren't allowed to actually be kids.  Whether its our boys being seen as menacing adults when they're playing in the park or our girls' bodies being sexualized from a young age.  The Central Park 5 case is one we know well within this community.  We know that the law says that you're innocent until proven guilty, but that's not the case for everyone and that was especially prevalent throughout that process.  
Those underage boys were questions without their parents or lawyers present, they were coerced into making false confessions (that didn't even line up) and were crucified in the media by the guy who's now leading this country.  Some of them didn't even know each other and were being fed names by officers; and entire timelines were shifted when the officers realized that the story they'd concocted wouldn't hold up when they put it in front of the ADA.  In fact, there's been so much evidence, plus an actual confession  by the rapist that's come out since the arrest and wrongful conviction of those 5 kids, but Trump is standing by what he said back in the 80's.  
Anyone who knows me knows that I don't do horror movies, well this is worse than any gory or scary movie that I've ever seen and I had to make myself watch it.  It's scarier because it's not only something that actually happened 30 years ago, but it's something that I could see happening today.  I don't know how many times folks have to shout that Black Lives Matter, that we have to fight for equal rights for immigrants for others to believe us.  Those kids were railroaded for a crime they didn't commit while folks like Brock Turner who ACTUALLY RAPED SOMEONE was essentially given a slap on the wrist because of his "promising athletic career" and his crime was diminished to someone having a few minutes of fun.  FOH!  Like I said, this isn't new, we've seen it with Emmett Till, and what really sickened me was that Donald Trump was calling for the execution of these boys and folks rallied behind that and the old lynch mob mentality resurfaced.  Folks were calling for these boys to be hung in Central Park!
I want to encourage you to do your research into the story and watch the mini series.  Yes, it's very triggering and one of my friends actually encouraged people to watch it in a group setting because it is so real to those of us in the Black and Brown communities, as well as our true allies.  Take care of yourselves.