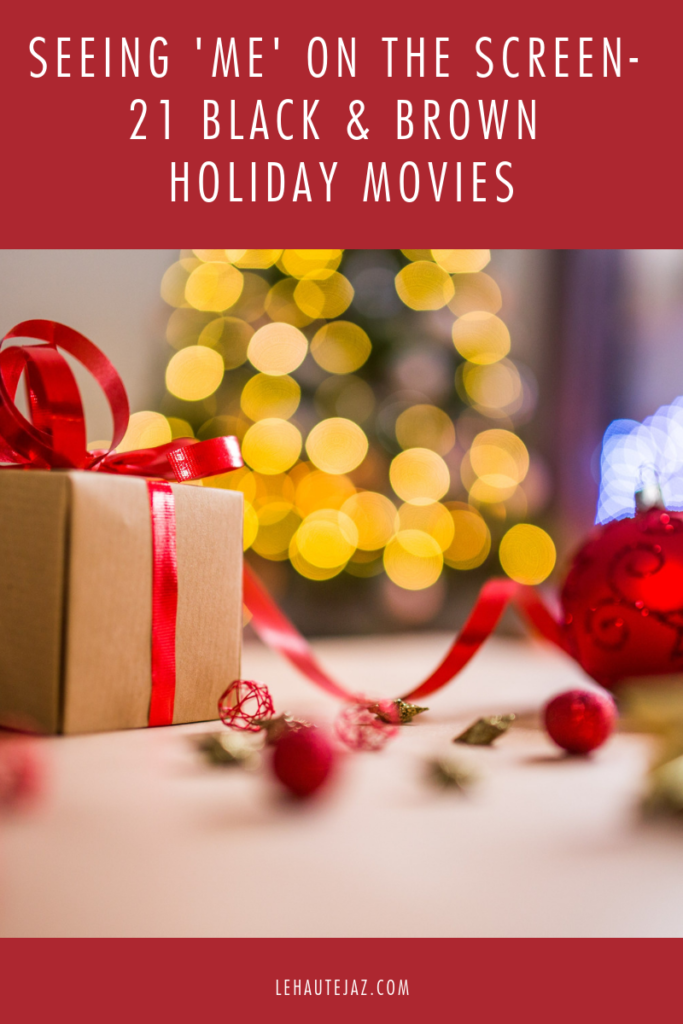 It's no secret that I love a good holiday movie.  I saw a meme recently on Facebook that said something like "yes, I know that this movie about a businesswoman who has never made time for love, moves to a small town, marries a baker who only wears flannel and gets engaged by the end of this two hour film isn't believable but I'm going to watch and love it". That's the plot of SO MANY of these Hallmark and Lifetime holiday movies and every year I binge them like they're going out of style.
I don't know what it is, but like so many of y'all I'm a sucker for a good holiday romance, but often times the main characters don't look like me.  We're typically the sassy sidekick (with great hair) whose telling the leading lady that it's been so long since she's dated someone, and we're hyping her up to go out with that baker/businessman/prince who's hiding his identity.  Well, that has changed recently!  In fact, there are quite a few diverse holiday films that were dropped in the past few years on Hallmark, Lifetime, Freeform, Netflix as well as in theaters and I wanted to share them with you.
Netflix –
They've been killing it with the original content and these holiday movies are both cute and super predictable like their Hallmark and Lifetime counterparts.
The Holiday Calendar – This one's out now and I actually watched it the weekend it dropped.  It's super cute and Quincy isn't hard on the eyes.
The Princess Switch – This is another one that dropped recently and I loved Vanessa Hudgens and 'ol boy from 'Nashville' in it.
Free Reign – The 12 Nights of Christmas – This one comes out December 7 and I'm looking forward to watching it!
New Lifetime Movies –
The Christmas Pact – Kyla Pratt, Kadeem Hardison, and Jasmine Guy are in this new one and I'm here for this 'Different World' reunion.
Jingle Belle – Tatyana Ali and Cornelius Smith are in this cutesy movie about jingle writers who fall in love.
Christmas Everlasting
Every Day is Christmas
My Christmas Inn – Tia Mowry-Hardrict is in this one!
Memories of Christmas
A Twist of Christmas – Vanessa Lachey is in this one!
Hallmark Movies –
A Majestic Christmas
A Gingerbread Romance – Tia Mowry-Hardrict is in this one too!
Christmas Made to Order – Alexa PenaVega is in this one
Freeform/ABC Family –
Life-Size 2: A Christmas Eve – This one premiered last night and it was the perfect throwback to my childhood.  And shout out to Tyra for the ANTM reference!
Snowglobe – An old Christina Milian ABC Family movie
Christmas Cupid – Christina Milian & Chad Michael Murray are in this older ABC Family movie
The Mistle-Tones – Tia Mowry-Hardrict is in this one too, as well as Tori Spelling.
Hollywood Hits –
Last Holiday – Queen Latifah & LL Cool J are the perfect couple in this movie!
This Christmas – Loretta Divine, Idris Elba, and so many others are in this heavy-hitter!
The Preacher's Wife – Whitney Houston and Denzel Washington.  Enough said.
Best Man Holiday – This soundtrack alone is a classic one and this was the perfect sequel to a cult classic!
I will have these movies and other great holiday classics in rotation for the next month and I hope y'all check them out as well!