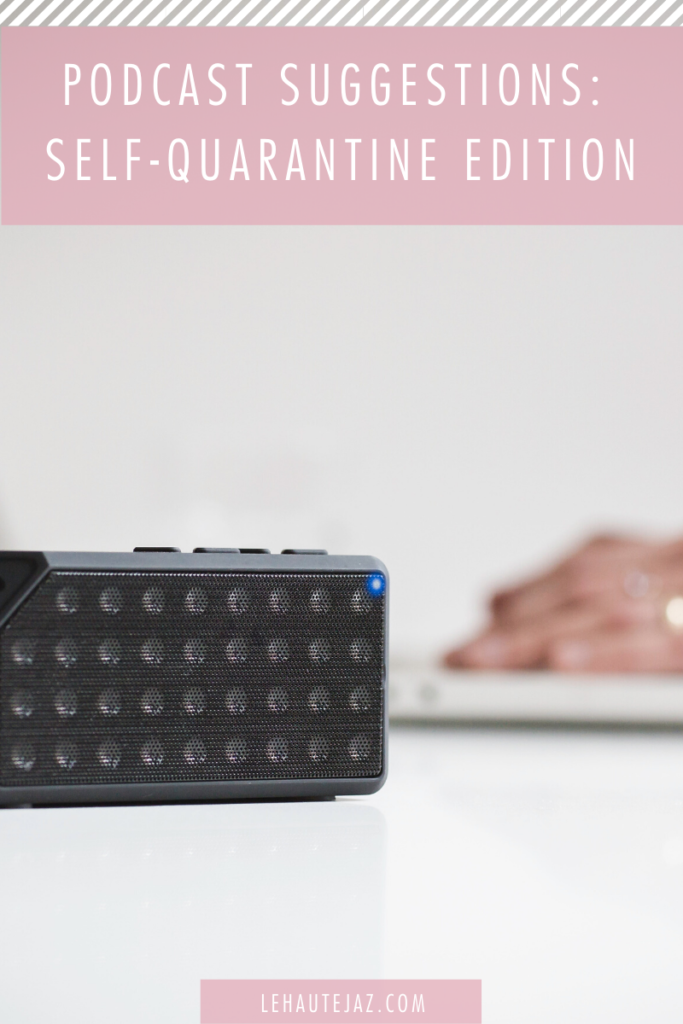 I don't know about y'all, but I find that it's easier for me to get through my work from home days with podcast episodes and live mixes from DJs. This pandemic has definitely brought out people's creative sides and I'm not mad. There have been so many of my favorite DJs going live on Instagram and blessing us with mixes that I can dance and work to, and this time of self-quarantine has also allowed me to get caught up on my favorite podcasts and discover some new ones too!
Podcasts are truly a perfect source of entertainment if you work from home. It's like having a co-worker there with you and these hour-plus shows help the day breeze by. Some of these suggestions are old favorites, and others are new discoveries but I think you should check out all of them!
The Read – I've been listening to this podcast since it debuted 3 years ago! I was a fan of Kid Fury before he started the podcast, so it was only natural for me to tune in to his new venture. Crissle won me over instantly and I've even gone to see them when they did a live show here in Houston. They have a pop culture podcast, but they also touch on other thought-provoking topics.
Bodega Boys – I've been a fan of Desus & Mero for a few years now and love their show on Showtime. Their podcast episodes are usually them being themselves and talking about pop culture topics, but it's great for when I just need background noise and a good laugh.
The Daily Popcast with Lance Bass – Not gonna lie, I didn't start listening to this podcast until he announced #NterviewWeek a few weeks ago and had all of the guys on for the 20th anniversary of 'No Strings Attached'. I feel like such a bad fan for saying that, but it's the truth. Since then I've gone and not only listened to that week's shows, but I'm tuning in every day and I'm making my way through the older episodes. This is another pop culture show, but done from his and his co-hosts' points of view.
Strong Black Lead – Black cinema legend interviews. I feel like that's all I have to say about this dope podcast. Tracy has interviewed everyone from Blair Underwood, Kim Coles, Robert Townsend, John Witherspoon, Ruth Carter, Lynn Whitfield, Garrett Morris and more!
Guys Next Door – Okay, this is another show I started listening to because I liked one of the hosts. When Mack Wilds' fine self announced that he was going to start a podcast with a few friends last year I couldn't subscribe fast enough! I love this show; often times they're discussing pop culture, but they also bring on guests and discuss things deeper than your standard barbershop talk. I like how open and honest they are and it's nice to hear some things from a guy's perspective.
Scam Goddess – This show keeps me laughing but has taught me a lot! We often hear about the Joann the Scammers and Madolfs of the world, but Laci (the host of this show) goes deep with her guest hosts to keep us up to date on current (and past) rackets and scams. Y'all this show is good!
Insecuritea – This is not only a plug for the new season that will premiere on Sunday, but it's a great companion for the show! Crissle and Fran discuss each episode and will often times have the stars of the show on as podcast guests! Do yourself a favor and catch up if you haven't watched the show, and listen to these podcast episodes after each show.
I randomly listen to episodes of a few other podcasts, but these are the ones I'm currently subscribed to. Are there any good ones I'm missing? Comment below or email me with your suggestions!