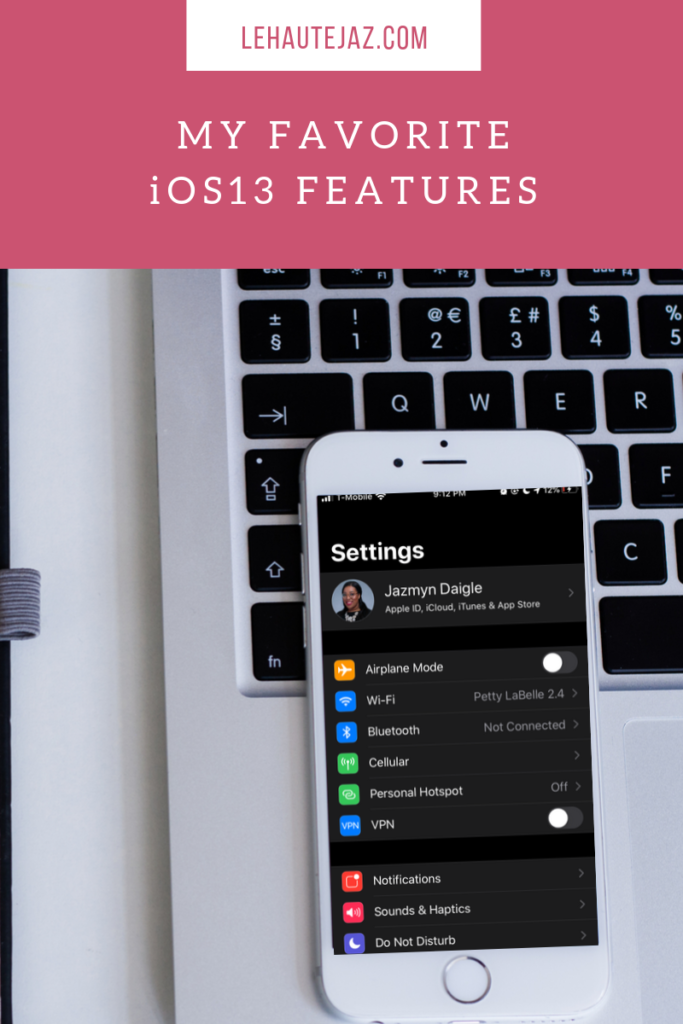 Apple rolled out their new iOS when they dropped the new phones and while I was hesitant to roll up, especially since iOS 13.0 was rumored to be unstable.  I did it anyway and updated to 13.1 and 13.2 when those dropped shortly after.  I'll be upgrading my phone to the 11 around Thanksgiving or Christmas, but until then I'm loving this new update on my 8.
I mentioned a few of these on this week's podcast episode, but I wanted to share a few more.
Dark Mode – This was one of the first things I did when I rolled up to iOS 13.  I typically wear blue-light blocking glasses so that my eyes aren't unnecessarily strained, but dark mode helps with that too.  I've been using Twitter that way for a while, but it was nice to see it in other apps.  It feels like more and more apps are adopting that feature, just this week Instagram and Outlook rolled out their dark modes and I'm loving them!
Swipe option on native keyboard – I've been using Swiftkey for about 5 years (since I had my Galaxy S 3), and when I got my first iPhone Apple started letting folks use third-party keyboards.  I don't know anything different, so this wasn't a big change for me but I'm happy that other folks now have that option natively.
Silence unknown calls – Y'ALL!!!  This might be one of my top three favorite features of iOS 13!  These robo dials have gottten out of hand recently and my phone is ringing ALL DAY with folks telling me that I've won hotel stays or what have you.  This feature has cut all of that out.
Volume indicator size – I get my screen back!  That big and imposing indicator is now gone and has been replaced with something sleek on the side of the screen.
Memoji – This feature isn't super new, it's been on iPhone Xs since last year, when face ID was introduced.  It was rolled out to everyone in meme form with iOS 13 and as someone who loves Bitmoji this was right up my alley.
Video editing – You can now edit your videos the same way you can edit your photos!  I haven't toyed with this feature a lot, but I have a feeling that I will in these upcoming weeks.
Location data limits – I'm not sure if you've seen a lot of Bluetooth permissions pop up as you opened apps after updating them recently.  Well apparently some of them were using Bluetooth to get location data on us and this new iOS made it so that we now have to give our permission for this!
Limit location data sharing – We now have the option to share our location during individual sessions instead of blanket "always" or "never".
Now I'm sure that this is just scratching the surface of all of the new features, but I'd love to hear your favorite ones.  Comment below or DM me and let me know!