I'm excited share this collaborative post with y'all about decor inspired by one of my passions in life, music!
In order to create a comfortable house in which you feel right at home in, you need to add a decor and interior design that suits your own personal tastes. If you can let your personality shine through, then even better!
One way people try and let their personality shine through their interior designs is by adding some design ideas from your favorite hobbies. For music lovers, it's incredibly easy to bring music into their decor. These tips can help you!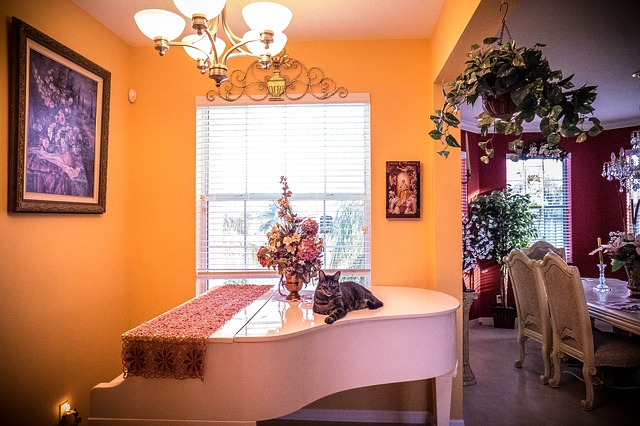 Think Of Your Walls As A Blank Canvas
Image what you would do with your walls if they were all blank canvasses… Well, guess what – that is totally what they are! It's your house and so you can feel free to make up your own rules when it comes to your decor. If you want to cover your walls in pretty sheet music or some of your favorite lyrics, then you can! The world is your oyster when it comes to your own walls, and you can add on anything that is music related. It's a good idea to get some wall stencils from http://www.craftcuts.com/treble-clef-stencil.html so that your artwork looks awesome.
Add Discreet Speakers
You will no doubt want to add some speakers to your rooms so that you can listen to your favorite tunes all day and every day. It's a good idea to get some discreet ones so that they don't stand out too much and become the defining feature of your interiors. You might want to get some cool bookshelf speakers, as shown on http://www.vinylvintage.net/bookshelf-speakers/, as they will sit neatly on your bookshelf and won't be too obvious. Alternatively, if you have a bit of extra cash to spend on them, you might like to get some embedded in your walls or ceilings.
Use Musical Patterns
When you are looking for new fabrics for your rooms, such as carpets, rugs, and cushions, it's a good idea to look out for some musical patterns. You know the kind of thing; treble clefs and other signs from sheet music, or the black and white pattern of piano keys. Adding these types of patterns to your rooms is a great way of adding some subtle musical touches.
Bring In Some Music Memorabilia
Who's your favorite artist? Whoever they may be, why not buy some of their memorabilia so that you can use this in your decor? For instance, you might want to buy one of their best records and frame it so that you can hang it on your wall. It's also a nice touch pinning some t-shirts to the walls as well. If they have a biography or autobiography out, you could place it on your coffee table so all your visitors can see what a big fan you are!
As you can see, it is incredibly easy to bring your passion for music into your home interior design. All you need is a bit of creativity, and your room will be musically themed in no time!
This post was a collaborative effort – please check out my disclosure policy page for more details.